© Richard Edwards _ WWF-UK.jpg
The natural world is under threat. More than 150 acres of rainforest are lost every minute of every day. Wildlife population sizes have seen an alarming average drop of 68% since 1970. And this isn't just about the natural world - it's about our world as well. We depend on nature for our own survival, livelihoods, happiness, and as seen with COVID-19, our health - the destruction of nature only increases the chances of future pandemics emerging. Our broken relationship with nature is putting the future of people and planet at risk.

Humanity may be responsible for the destruction of our planet - but humanity is also waking up...and stepping up.

Findings from a new eye-opening report by the Economist Intelligence Unit (EIU) commissioned by WWF, spanning 54 countries that hold 80% of the world's population, reveal that we're entering a new era of change - perhaps the most important era for the future of humanity and our planet.
The Eco-wakening is here, and the signs are unmistakable.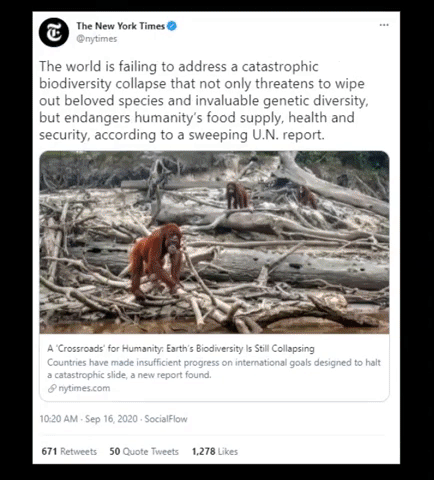 On Twitter alone, the number of posts related to nature loss and biodiversity has increased by 65% since 2016.

This increase in nature loss and biodiversity-related Tweets can be seen especially in emerging markets: an increase of 38% across Asia, 53% in Sub-Saharan Africa, 136% in Latin America (between 2016-2019) and a staggering 550% increase in India from 230,020 in 2016 to 1.5 million in 2020.
MORE PEOPLE ARE AWARE OF THE ISSUES - AND WANT TO BE INFORMED
The popularity of Google searches for terms related to biodiversity and nature loss, relative to all searches, have grown by 16% globally since 2016.
Emerging countries in Asia and Latin America have seen the greatest increase in the popularity of searches for nature-related topics. In India, the popularity of such searches increased by an incredible 190%.
MORE PEOPLE THAN EVER ARE IN SEARCH OF A SUSTAINABLE FUTURE

The popularity of Google searches relating to sustainable goods has increased by 71% globally since 2016.

Demand for sustainable goods has increased especially in high-income countries - specifically the United Kingdom, the United States, Germany, Australia and Canada. But this trend can also be seen in emerging countries. In China, 41% of consumers say they want eco-friendly products, and in India, sales of 'natural' [organic] products have grown by 13% since 2018.
CONSUMERS ARE NOT AFRAID TO TAKE A STAND

In a 2019 online survey, 50% of respondents worldwide said they switched products or services because a company violated their values. The number one reason cited for the switch was to support products or services that 'protect the environment.'
Another survey by Havas Group Worldwide reported that 2 in 3 consumers believe that when it comes to driving positive social change, brands bear as much responsibility as governments.
...AND BUSINESSES ARE LISTENING

In the food, cosmetic and natural pharmaceutical industries globally, the number of companies committed to sourcing practices that protect biodiversity increased by 45% from 2016 to 2020.
In the fashion industry, 60% of brands in North America and Europe say that 'implementing sustainability measures' was one of their top priorities in 2020.
Last year, 540 of the world's biggest corporations - including Fortune 500 companies such as Microsoft, Unilever, and Citigroup - signed up to a Business for Nature statement calling on governments worldwide to do more to reverse nature loss.
© Climate March
MILLIONS ARE DEMANDING URGENT CHANGE
Since 2016, over 159 million signatures for biodiversity-related campaigns have been collected.
The most number of signatures for biodiversity and nature campaigns came from Brazil, with 23 million signatures - or 15% of global signatures.
...AND THEIR VOICES ARE BEING HEARD
In June 2020, seven major European funds threatened to withdraw their 2 trillion US dollars-worth of investments from Brazil unless key decision makers in the country did something to stop the surging destruction of the Amazon rainforest

Last September, political leaders participating in the United Nations Summit on Biodiversity, representing 84 countries from all regions and the European Union, committed to reversing biodiversity loss by 2030.

As of 2019, legislations restricting single-use plastic items have been passed in 127 countries, following sustained global protest about the environmental harm that was being caused.
DIVE DEEPER INTO THE ECO-WAKENING
Wake the world

This year can be a crucial turning point to reverse nature and biodiversity loss. In only a few months time, world leaders are scheduled to attend a key United Nations conference to negotiate a global framework for addressing the nature crisis. The decisions they make during this conference will impact decades to come, in all aspects of government, business, and civil society.
This is our biggest opportunity yet to wake the world. Sign our 'Voice for the Planet' petition below to urge world leaders to take urgent action and make decisions that will benefit both nature and people.